Home Automation Services
We are a generation of millennials who love ease and comfort and firmly believe in life at the touch of a button. It is no surprise then that the concept of a smart home or office is catching up pretty fast. The year 2017 recorded a massive 31% y-o-y increase with 8.4 billion IoT smart home devices, and this trend is set to continue with the IoT market value estimated to reach a staggering $7.1 trillion by 2020! Needless to say, IoT–enabled home automation systems are the future.
Our home automation and security system constitute various appliances, security controls, HVAC, lighting, sensors, and audio-video systems integrated together using IoT technology. Just think how nice it'd be to enter a house with the thermostat preset to the perfect temperature, or wake up to have your coffee ready and waiting for you, or monitor your home with surveillance cameras when you're far away on vacation somewhere! We provide you with the best home automation systems in the market to transform your home into a tech-savvy, state-of-the-art Smart home!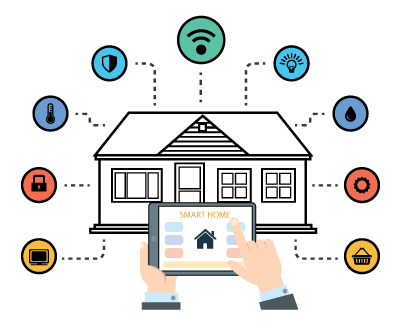 Tell Us About Your Project
Let us know who you are and what's on your mind, and our experts will get back to you with a solution.
What Our Clients Have To Say
Good work is followed by good word
Working with VBE team has been a great experience. They use the technology wonderfully with a high level of creativity. Their solutions have been very beneficial to us.

After going through many agencies, appointing VBE was the best decision. Their involvement in the project and attention to the minute details was overwhelming. They made sure things are up and running quickly with high accuracy.

Right from the designing to delivery, VBE technologies never failed to awe us. Their communication was very prompt, and their dedication motivated us even more. Great team to work with!